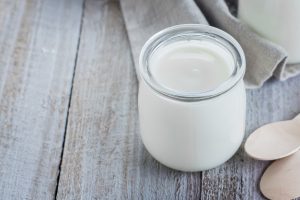 If you love western food, you must've heard about heavy cream, or you've probably tried cooking something with it. This type of cream is used a lot in cream soup, spaghetti and other dishes with thick sauce to give the right consistency and enrich the flavors.
But if you're not familiar with it, heavy cream is a derivative of dairy milk and it's quite fatty, with more than 30% of one serving made up of fat. The thicker it is, the higher the fat is, and the more savory it tastes.
While there aren't too many Indonesian dishes that use it, heavy cream is widely available in stores across the country. You can even visit supermarkets near you and find this cream sold by various brands. But if you can't find heavy cream anywhere, for whatever reasons, don't worry because you can make it yourself using some ingredients that you've probably had in your fridge.
These heavy cream substitutes are very easy to make, and they can be made lower in fat. But it's worth noting that these are alternatives to heavy cream used in cooking, not whipped cream that's normally used for cake, ice cream or toppings.
Milk + Butter
Yes, milk and butter are all that you need to make a thick cream substitute. First, melt 1/3 cup of butter in medium heat and pour it into ¾ cup of full fat milk. You can also use skimmed or low-fat milk, but the mixture will appear less thick. Add one tablespoon of wheat flour to thicken it up.
If you want to make it a better food ingredient, try adding FiberCreme to this recipe. This multi-purpose creamer is free of cholesterol, low in fat, low in calorie, and contains prebiotics that are beneficial for your digestive system.
Greek Yogurt + Milk
Have Greek yogurt in your fridge, and still have no idea what to do with it? Greek yogurt can also make a great heavy cream substitute. Just mix it with your regular milk to thin it out. Greek yogurt is alredy low in fat, so it's safe to say that this mixture of yogurt and milk is much healthier than the normal heavy cream.
Milk + Cornstarch
This is inarguably the easiest and cheapest way to make a heavy cream substitute. To make 1 cup of heavy cream, mix 2 tablespoons of cornstarch with 1 cup of milk. Mix well before being used.
Getting a heavy cream substitute is easy, right? It's even better because you can lower the fat of your own version of cream, and add more fiber with FiberCreme. Try to make all the recipes above, and follow @FiberCreme_TV on Instagram to see what you can make with the cream!