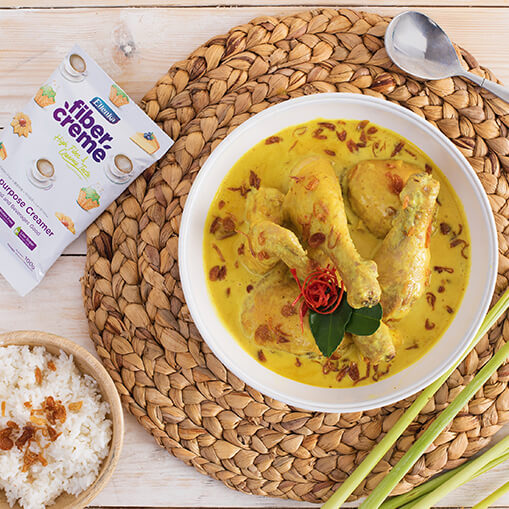 Recipes – All   │ 

[video_popup url="https://youtu.be/0fzMtUOyJBA" text="LIHAT TUTORIAL" auto="yes"]
Creamy Opor ayam
4 Portions
Ingredients
1 chicken, cut 10 parts or according to taste
2 bay leaves
2 cm crushed galangal
2 cm crushed ginger
3 crushed lemongrass
A pinch of salt and pepper
750 ml of water + 12 tablespoons FiberCreme
2 tablespoons oil, for sauteing
Spice paste:
12 shallots
3 cloves of garlic
4 grains of pecan, roasted
2 cm turmeric, burn
2 teaspoons coriander roasted
1 teaspoon cumin
Method
Blend all the spice paste ingredients. Add salt, pepper, and cooking oil. Stir-fry spices, bay leaves, galangal, ginger and lemongrass until fragrant.
Add the chicken. Cook until the color is changed
Pour water and FiberCreme in, cook and mix well then put salt and pepper if needed. Stir it well. Cook until the liquid slightly seeps into the chicken.
Cook until the sauce become thick and serve.
This recipe is suitable for you who look for the coconut milk replacement for cooking.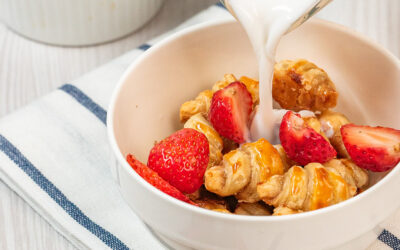 Croissant Cereal 20 grams FiberCreme, dissolved in 280 ml warm water 1 pc store-bought puff pastry20 grams sugar3 grams cinnamon powder Mix together sugar and cinnamon powder, set aside.Cut puff pastry into three rectangles of the same size. Then cut each...