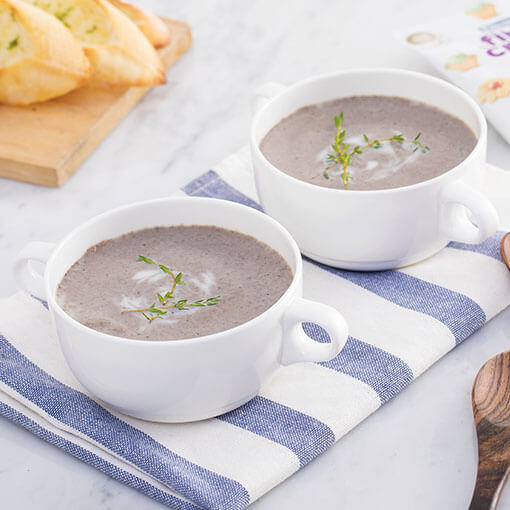 Recipes – All
Champignon Mushroom Soup
5 Portions
Ingredients
1 tablespoon unsalted butter
400 g of champignon mushrooms, or other types of fresh mushrooms
1/2 onion, chopped
1 tablespoon wheat flour (any type)
3 fresh or dried thyme leaves
2 cloves garlic, peeled, smash, leave intact
400 ml chicken broth or vegetable stock
100 ml water + 10 tablespoons FiberCreme
Salt and pepper to taste
Method
Saute mushrooms with butter until brown and dry. Add a pinch of salt.
Add garlic, onions, cook for 5 minutes, add the flour and cook for a while, until the flour is cooked, then pour the chicken stock in.
Add thyme and let it simmer for 15-30 minutes.
Remove the thyme leaves, blend them all, return the soup to the pan and add the water mixture and FiberCreme, bring to the boil again.
Add salt and pepper to taste.