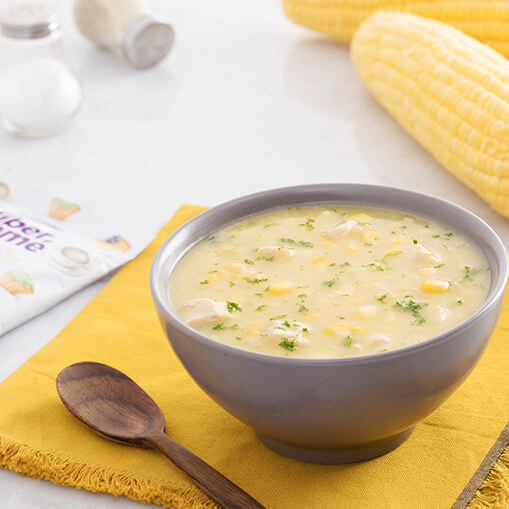 Recipes – All
Creamy Corn Soup
4 Portions
Ingredients
300 ml chicken stock
200 g chicken breast, diced cut
2 shallots, chop
2 celery sticks, chop
1/2 onion, finely sliced
30 g of butter
2 tablespoons of wheat flour
7 tablespoons FiberCreme
1 tablespoon finely chopped parsley leaves
100 g of sweet corn
Method
Pour chicken stock and add chicken breast into a pan. After boiling, reduce the fire and cook about 10 minutes or until the chicken breast is cooked. Turn off the fire.
Strain chicken breast and cut the meat, strain the remaining stock and grab the water.
Heat butter, saute shallots, onion, celery until soft. Add flour. Cook, stirring for 1 minute or until the flour is cooked. Gradually add chicken stock and FiberCreme, bring to a boil.
Add sweet corn and bring to a boil again. You can blend it at this step if you want the soup to be more creamy.
Reduce the heat into medium. Add breast chickens. Cook and stir occasionally, for 15 minutes or until the soup thickens slightly. Season with salt and pepper. Sprinkle with parsley. Serve.
Add vegetables such as carrots, potatoes, according to your taste.